I tested fitted the roll bar body stainless bezels as well, and noticed that the rubber seal provided for the third leg bar, (the one that angles back from the hoop) wouldn't really make for a weather tight seal. This bezel is oval shaped, where as the ones for the hoop bars are round. The oval bezel is needed due to the angle the bar passes through the body. I had some motorcycle inner tube material, and first using the bezel for a template, I cut out new seals. Once installed, the seal should fit pretty tight around the roll bar, and prevent any water entry, such as when I wash the car. (Hopefully the rubber won't deteriorate too quickly from UV exposure..etc.) I still have to cut the new seal center hole, once I determine where exactly the bar passes through it.
THIRD LEG BEZEL AND SEAL
Today I will be working on aligning, and fastening the fender side vent louver. The louvers are supplied as a flat sheet of aluminum, with pre-cuts made in it for the vanes. You carefully bend the vanes out, to the angle you want, before mounting on the inside of the body. FFR suggest that you can simply silicone them to the fiberglass. Some builders have used epoxy, or JB Quick and even RTV to adhere them. A few fellow builders have really gotten elaborate and fiberglassed threaded studs to the inside of the body, so the louvers can be held in place with nuts. Some have used self adhesive Velcro strips, so they can be removed easily. Apparently some builders use this vent hole as an access to their header bolts. I'm still not 100% positive how I am going to attach mine but I do want them removable, at least for the time being, as they need to be pulled when the body goes in for painting. Maybe I'll try the Velcro method..
FENDER LOUVER PRE-FIT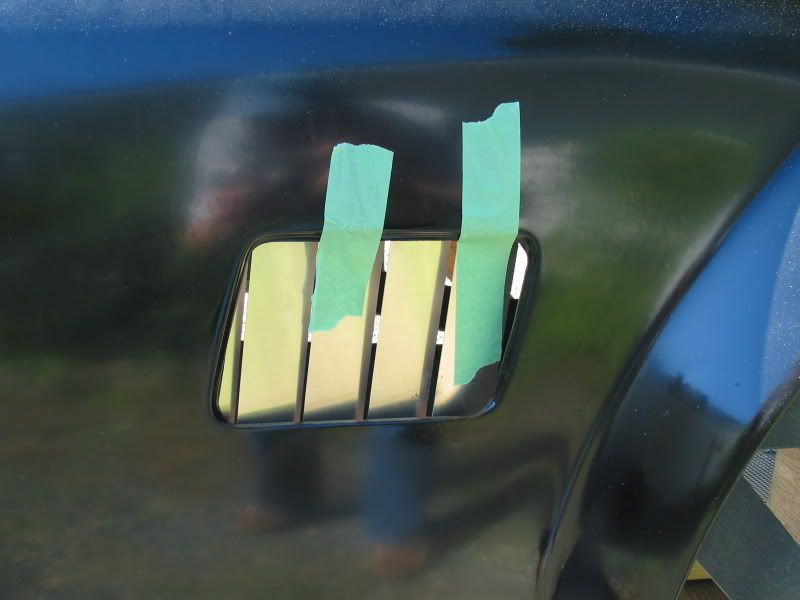 Raffle winner!
Man was I lucky!
I went to the annual FOR Eagles Club Pig Roast last night, which for the money, is a great feed and a lot of fun. The raffle they held was down to the last two prizes, when my ticket number was drawn. One of the prizes left was a fire extinguisher. This was on my list of things I still needed to purchase, as I wanted to carry an extinguisher in the Cobra at all times. It was also the BC type, which is used for oil, gas, and electrical fires, and doesn't cook the chemical onto anything. The ABC extinguishers were known to have this issue, in that any hot surface, the chemical used in them, was sprayed on, it adhered to and is a real bitch to get off...
Nice to get lucky once in awhile..