It was requested that I post a thread that shows a bit about the project that I have undertaken to build a AC Cobra replica. In doing so I mention the kit manufacture, and CND distributor, which is not intended as a blatant promo, nor a disregard for other kit makers, it's simply what I am familiar with.
The basis of the FFR (Factory Five Racing) S/C 427 roadster kit, is to use a Mustang 87-2006, as a donor car to complete the kit. They designed a kit intended to keep the cost down for the average builder. I would expect that at the
very least,
a CND builder would spend in the $30,000 range. There really is no upper $ limit..
First, FFR needs to be informed as to what year Mustang you are using, so they can supply the correct kit, with the proper motor mounting points welded in, as well as a few other important things. So before ordering you need to plan out your build carefully. Perhaps even buy a donor car, or arrange for the parts needed from a wrecker,
prior to ordering the kit
, so you know exactly what you are going to work with. Plus, you can start to clean, paint, or overhaul the stuff while your waiting for your kit to arrive.
The later model Mustangs with the 4.6 modular motor, have advantages, and disadvantages. The advantage is that you are using a newer, more powerful engine. The disadvantages are that the donor engine and parts, being newer, initially cost more, as well the wider engine can constrict foot box space. If you have big feet, or are a larger person this can be a pain.
The earlier Fox Mustangs 87-93 have advantages, and disadvantages as well. Advantages; usually the donor, or parts from the earlier Mustangs are fairly inexpensive, and readily available. Bolt on performance parts are also plentiful for the 5.0. You have additional leg/foot room using the narrower engine. The disadvantages; the motor, and other needed parts, are often high mileage, and frequently will need overhauling, or at least some freshening up. Cleaning and painting can be a bit more of a pain, dealing with rusty bolts, etc..
NOTE; The later (89-93) MASS Air EFI cars are preferred, over the Air Density models. Some opt to convert them to carb, so in this case it really doesn't make a difference. The "World Class" Tremac T5 is also the preferred donor tranny, as they are a little stronger built unit.
The third option is to purchase all the new parts that are required to finish the build, and either a crate engine, or a complete rebuilt. Obviously this is the most expensive route, but does have advantages as you can imagine. (You can also mix new and used as you feel fit, perhaps to offset some expense).
UPDATE-The new Coyote engine can now be used in the FFR;(Summer 2011)
I chose to use a 90 GT as the base for my build. Rather than buying a donor car, say from the Buy and Sell, and driving it home, to begin the stripping process, I chose to have the wrecker strip the parts needed, and simply truck them home. Now some builders have had pretty good luck by stripping the donor at home. Any good left over body parts, lights, exterior trim, glass, and interior parts, etc. can be sold. This can really reduce the overall cost of the parts you need! Problem is with doing it this way, is you eventually end up with a carcass in your driveway, you need to get rid of. Its often a bit messy, IE; oil stains, etc. on the driveway, and your neighbors/Wife/landlord may hate you for it.
FFR provides a list of the items that are required to be stripped from the donor car, and it is pretty thorough, as I have found. The major parts are the engine, tranny, rear end, complete
wire harness
, pedal box, radiator,
steering rack
, brakes, and some of the front and
rear suspension
. There is a mess of smaller parts as well like the e brake handle, horns, and misc. brackets. Even the gauge cluster can be used, as it can be cut up, and new round gauge bezels and glass supplied with the kit, give the dash the more original look.
Now many builders won't bother with some of these used parts, as they are after all, building the car of their dreams. Many things will be bought new. I bought a new radiator, rebuilt calipers, rotors, and a few other things that I didn't want to chance from the donor car. You find things as you go on with the build.
The importing of the kit into Canada is not really that bad. You have to be patient with the DOT approval process, which can take several weeks. FFR has worked with the DOT, to keep things as smooth as possible, for us to import. Go to this LINK to and click on "Canadian customers" on the right side of the screen, then click on "Canadian import procedures" on the right side of the screen to get the details..
Mk3 Roadster
UPDATE;
As of early 2010 a new improved MKIV version of the roadster is now available as detailed through this same link provided.
NOTE; to make it possible to import these kits into Canada, FFR has had to delete some of the parts, (to meet DOT requirements), usually supplied with the kit. It has been a sore spot with CND builders, as the price of the kit remains the same, even without these items that US builders get included. These deleted parts include things such as the fuel and brake lines, T's and other line fittings, and some nuts and bolts type of stuff. In addition some options can not be ordered direct from FFR, although you can order them from other suppliers in the US..go figure..The base kit deleted items, will cost you around $6-800 dollars additionally. Some of the
optional
items like the Koni Coil-overs may run another $600+/-. Depends on what you want.
Deleted items link.
http://www.factoryfive.com/canada/Ca...Deletions1.pdf
You can purchase the kit directly, or through the Canadian distributor, Western Canada Cobras. I chose to use WCC, as the price is the same, and he takes care off all the DOT importing paperwork, shipping arrangements, taxes, duty, etc. The headache crap. Basically you send him a cheque, and then patiently wait.
Builders in Eastern Canada, may opt to save the shipping/crating charges, drive to
Wareham, Massachusetts (about an hour south of Boston),
and pick the kit up. I opted to have it shipped. There is an additional crating fee if you have it shipped vs picking it up.
ARRIVAL DAY. The kit arrived on a cool rainy day, approx three months after ordering and paying for it all. The semi trailer truck was too large to turn up my driveway, but fortunately the truck was equipped with a HI- Up.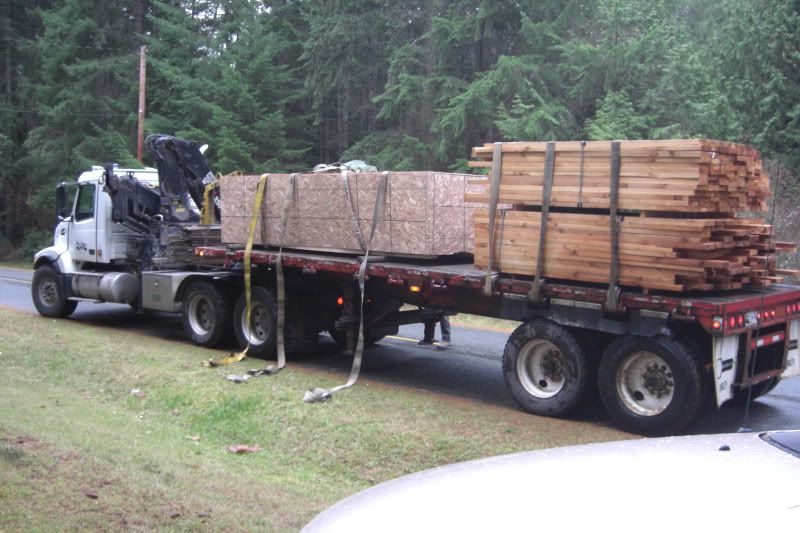 The single large crate, was carefully maneuvered up my driveway, to be dropped directly outside my shop doors. What a bonus! It made for ease of unpacking the crate, and getting all the boxes of parts into the shop. NOTE; Make sure you have lots of room in your shop cleared, before the arrival!
Home at last!
It should be noted that your crate will not always arrive at your doorstep in the above fashion. I was extremely lucky that the shipping arrangments made by Western Canada Cobras just happen to use a trucking company that had one of these type of trucks. It is very common for some buyers to have their kit arrive at a local frieght warehouse, and then it is up to you to pick it up, or arrange for delivery of it from that point. Buyers in this position usually opt to get a flat deck
tow truck
to bring it the last few miles home. The benifit of the flat deck is that they can tilt the bed, and slip the crate down slowly onto your driveway. (If you have a big enough door on your shop, sometimes they can slide it right into your shop)
You could also rent, or borrow a car trailer, and load the crate onto it, and bring it home.
NOTE; The shipping arrangments made through WCC, includes complete insurance on the kit while in transit. If you make your own shipping arrangments, or pick it up at the FFR warehouse, you will want to make sure you have the proper insurance coverage on it.
CONTINUED
....​