It's a bit of a rabbit hole to go down Trevor, but here's the highlights I've learned through the years.
Hot Wheels (mainlines) and Matchbox are the most common, retailing around $2 with taxes in.
The genius of Hot Wheels is the low price and the number of re-colours and re-issues.....there's 250 HW released in a year, but with the re-colors and such, you're probably looking at closer to 400.
For example : re-color and re-issue on the Escort and the GT40.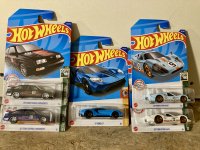 The completist collectors will prefer to have both, so instead of buying three HW for $6, you buy 5 for $10, and essentially buy two of the same thing. If you're a Simpson's fan, you'll get the reference that it's like Malibu Stacy's new hat.
Like I said, it's a genius marketing move when you can get people to buy the same thing they already have in a different colour...but thats what the collector market relies on. I plead guilty.
HW Premiums run $10 with taxes in each, but you get better detail and lower production.
Greenlights are a step up, but comparable with HW Premiums, and about the same price.
You get into the bigger scales, 1/24 and 1/18, prices vary and you truly get what you pay for as far as detail, and whatever you're looking for.
I prefer not to total up how many I bought over the year,
, it's easy to get out of control with the number of offerings out there.
But, on the flip side, I don't drink or smoke anymore , so I figure the money I'm saving on booze and cigarettes probably breaks even. lol
I'm dialling things back a bit in 2023 though, I'll be focusing on the Vintage Ad Car series only, and maybe any GT350's and Gen 1 Raptors issued in a new colour.