In my list the most terrifying car to drive was the Renault LeCar. 1300 cc engine with a whopping 55 hp! Not one safety feature to be found except the seat belt (when it clicked in sometimes). Three wheel nuts and you could pull the engine out by hand. Swapped it out at the auto club in an afternoon.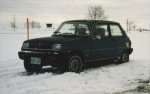 Most fun to drive was the M113 armored personnel carrier in Gagetown.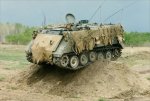 Both good winter beaters, when the heaters worked.