With all Public Gyms Closed over the last month a lot of People that were working out in Gyms, (myself included) have set up home gyms causing a temporary shortage in home Fitness Equipment in stores and online.
I was able to pick up a Flat Bench as well as an Abs Bench for doing sit ups along with the gym flooring from Amazon.
Dumbbells quickly sold out in stores and online.
I ordered a set of Power Block Adjustable Dumbbells that adjusts from 5 to 50 pounds per Dumbbell and upgrade to 70 then 90 pounds per Dumbbell are available.
When it became apparent that the ones I ordered were back Order, I was able to pick up a set of 15 and 25 pound dumbbells to tide me over till the others arrive hopefully within a few months.
I workout 6 days a week doing Chest and Biceps with Abs day 1, Shoulders and Triceps with Abs on Day 2 and Back and Legs with Abs on Day 3. Then I repeat sequence on days 4,5 and 6.
I do 3 to 4 sets, 15 reps per set, for each exercise.
I have been training with weights since I was 15, and I am able to get in a good workout with the limited amount of equipment I have.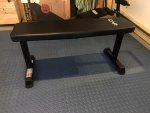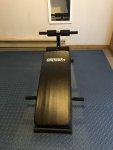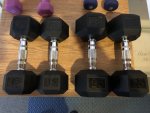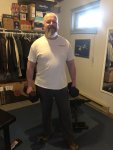 Last edited: