Rummaging Through the Basement Totes... Part III.
Not necessarily diecast, but one of these days I'll find the time to build these models, used to build obsessively as a kid.
Interesting that the decal sheet for the '06 GT even has different colour decals for the "MyColor" dash lights. ( left side of decal sheet )
Parts bags are still all sealed. lol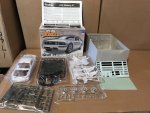 I had a '98 XL fleet side Supercab as my first Ford, but closest I could find for a model was a '97 step side.