Administrator
Staff member
I bought this car in February, thanks to a Lead by Aaron in PEI.
Did the deal, went and trailered it back.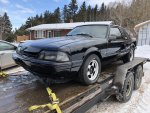 Solid car with good bones for a build. With many ideas bantered around a plan came together for the build.
It will be a Gen 1 coyote swap, from a 2014 GT Vert ( I bought the whole car as a donor.