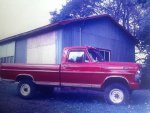 This project started in spring of 1972 when my Dad bought this truck, it was less than 6 months old. Built in Ontario in Sept of 1971 and picked up at the factory by the original owner . Dad needed a truck for the garage and this came home. F250 4x4 ,360 cid V8 , 4 speed trans, 2 speed divorced transfer case, light duty front end (closed knuckle Dana 44 ) with manual locking hubs, power brakes, manual steering built as Sport Custom trim level. 7.50 x 16 nylon Jeep service lug tires on split wheels and a dealer installed step bumper.
As the truck needed to earn its keep it was soon equipped with a Fisher 8' power angle snow blade which would remain on the truck until the early 2000's . The last vehicle inspection expired in 1996 . The truck received a thick coating of grease graphite undercoating when it arrived in Guysborough .
I credit that application of undercoating and a couple of Dad's additional guards in making the truck last. What you see is all original doors, fenders, box sides etc.
About 2004 Dad repaired 2 small holes in the bottom of the doors and the truck was prepped and painted and went in the building you see in the picture . The spark plugs were removed, the cylinders oiled and the truck was covered and did not move until May of 2018.