Well, it's not going to be a Mach1 for me anymore.
I was going for the Mach1 right up to last week. Then confirmed the order I have in will be filled as a 2023 model.
So price increase to neighbourhood of $80,000.00.
Shelby money but still not a Shelby.
So did some online searching and found a mint 2017 with only 5600 km.
Picked it up in Montreal Tuesday.
Paid a bit of a premium for the low mileage but basically a new 5 year old car.
Similar theme as my 06.
Since the GT350 traces its origins back to 1965, I've already ordered the plate which will be 65AGAIN.
It's one of 400 2017's in Lightning blue with the black stripes.
There was 909 in Lightning blue that year.
Along with the 400 with black stripes, there was 387 with white stripes and 122 with no stripes.
It has Recaros and the electronics pack, meaning 9 speaker sound system, Sync3, Nav and dual zone climate control.
Don't have many pics yet. It's still filthy from picking it up.
Heavy rain in construction zone this side of Rivière du Loup in Quebec.
Got sprayed with dirty water.
Washing it is on the to do for tomorrow morning.
A couple pics from day of pickup.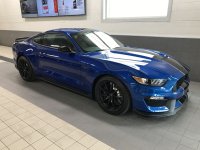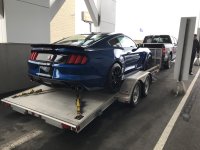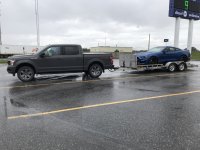 Last edited: