I still have yet to see a track, so my Saucony's are working well. lol

Like the Sparco's though.

As a newb question, I know its like anything else, you can spend as little or as much as your budget can handle.

But for the casual , entry level enthusiast......whats a decent set of driving shoes look like price wise ?

I mean, you can spend $150 on a pair of comfortable running shoes....like my Saucony's.

Like the Saucony's , I'm sure there's a hundred different models.......good thread, never considered driving shoes much.
Actually the Puma are reasonably priced and pretty easy availability.
Here is an example from a quick Google search.
They are not from their racing line so not fire proof but with a leather upper, they are the next best thing.
This is what makes the price reasonable
These are pretty much like mine
Also a reasonably priced pair of Sparco.
Those Converse I posted above also a budget conscious option.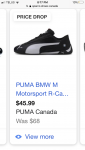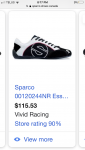 Last edited: