This was the first Mustang sent by Ford to Carroll Shelby be converted into a Shelby Mustang.
It was converted into this GT350R prototype race car. The first GT350 featured a number of additional exterior details that distinguished it, including a one-inch thick Monte Carlo bar, a pronounced functional hood scoop, and modified steering. The handling was improved by the 15-inch wheels that were originally fitted with low-angle nylon cord Goodyear tires. The first Shelby was sometimes referred to as a Cobra (Shelby's race cars were also called Cobras) because many of the badges added to it, featured Shelby's original Cobra design. The 1965 GT350 was equipped with a 289-CID K-Code engine, which churned out 306 horsepower, a full 35 hp more after Shelby's modifications.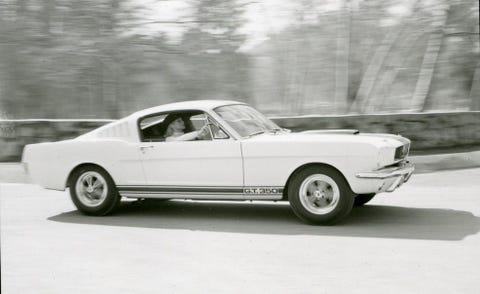 Shelby American driver and engineer, Ken Miles, drove the GT350 to its first victory on Valentines Day, 1965, appropriate given how famed Miles' affection for the GT350 was. The GT350 would hold onto the title of B-Class champion for three years. There were two versions of the GT350, the other being the GT350R. The R stood for race specifications, and only 35 of these were manufactured. Those 35 were created to comply with SCCA rules and were ready to race. The GT350R was bumped up to 360 horsepower.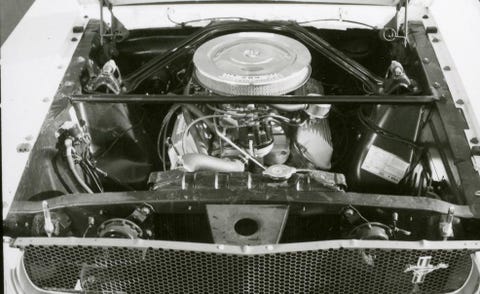 The first three hundred 1965 Shelby Mustang GT350's produced came fitted with the battery in the trunk. This was actually an unpopular feature, as fumes would make their way up to the driver. At first, Shelby's solution was to fit the battery with caps that had hoses that vented fumes out through holes in the bottom of the trunk. Eventually, the battery was simply moved into the engine compartment on the rest..
The original Shelby sold for $4,547, which wasn't cheap at the time. But it would have been a smart investment since only 513 '65 Shelby Mustangs were sold.