In the past, I wrote about this car in the "What did you do to your Mustang today" thread but never posted a thread dedicated to it.
Quick history on the origin of the plate, 67Again.
In 2006, I bought a used 2005 GT automatic, Red Fire in colour.
That was the then fresh remake of the Mustang with design queues from the 67-68 model.
Since mine was automatic and 67 was the only year that Ford named automatic GT Mustangs "GTA"'s, I decided to run with that theme.
I added a rocker stripe with the GTA logo in it.
The appearance mods I did were geared to making the car look more like a 67.
Such as adding quarter window louvers and ditching the pedestal spoiler on the trunk, which was a 69-70 feature, in favour of a fastback looking spoiler from the V6.
And, I got the personalized plate.
This is that 2005 GT on track in Watkins Glen, NY, in 2009.
No smart phone back then so limited pics.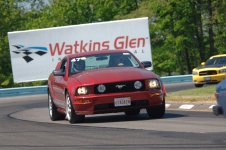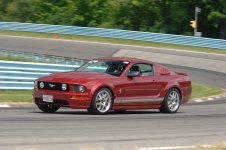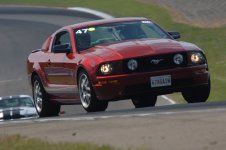 Last edited: