Administrator
Staff member
2023 Fall run, Saturday September 16, 2023
Valley Nova Scotia Edition.
Due to limited hotel availability, Hotels have been booked in Darmouth Crossing.
Run will start at 8:00 in the movie theatre parking lot. 145 Shubie Dr. dartmouth.
Hotel information, we have 25 rooms held, For Friday and Saturday first come first serve.
Hampton Inn and Suites 65 Cromarty Dr, Dartmouth, NS B3B 0G2.
Dartmouth Crossing.
The group block is all set for reservations. Forum members can either phone the hotel direct
(902) 406-7700
and ask for the
Maritime Mustang Forum (Code MMF)
rate; or they can use the group code
MMF
on our website.
Enter dates
Click on
Special Rates
and
Under the
Group Code
field type
MMF
Then
Check Rooms & Rates
.
Website:
https://www.hilton.com/en/hotels/yhzdthx-hampton-suites-halifax-dartmouth/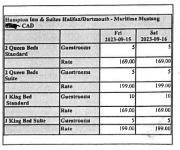 Supper and run details to follow
Special thanks to Glen and Jen for all thier help with this.