Figured we could cover another day of the week with this thread.
Evolution of motor view in my 06.
I don't have a photo of stock look.
So we pick up still kind of early on though with Ford blue valve covers over FR Hot Rod cams, with C&L cold air and FR throttle body.
BBK long tubes already in there as well.
If you squint and close up on the strut tops, you can see Maximum Motorsports CC plate hardware.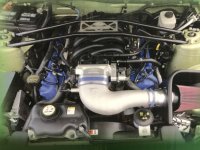 The second look is not much different from the first except for the bigger diameter and plastic composite JLT air intake.
I also deleted the charge motion plates and did a new tune when I added the JLT.
The engine responded really well.
Measurable double digit power increase and improved throttle response over previous setup.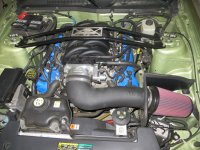 The third view is the current view.
Biggest visual queue is the taller Ford Racing intake manifold and absence of the strut tower brace, which had to go to fit the intake.
What is not visible is that the intake now sits atop Livernois ported heads and more aggressive, stage 3 Comp Cams for NA setup.
This setup bumped the redline up to 7500 rpm with support from a higher capacity oil pump and larger oil pan, and was good for another 50 hp gain but did lose a bit of down low torque.
That was pretty much remedied with a taller set of gears, going from 3.73 to 3.90.
Note there was no actual loss of torque.
Rather, the meat of the torque moved further up the rpm range from around 3000 closer to 4000 rpm.
This issue is a known consequence of going from a long runner intake, which the OE intake was (good for low end torque), to a short runner intake, which the FR intake is (better at supporting high rpm power).
You may recall a similar result when Ford came out with the Boss in 2013.
At the time the Boss intake manifold was a much vaunted piece of hardware.
It too could support power to a higher rev limit of 7500 and was credited with having a big part to play in the Boss laying down 444 hp compared to the 420 of the same era GT engine.
But the Boss made 10 pounds of torque less then the GT of the day, being rated at 380 lb/ft versus 390.
In that case too, Ford played a bit of a hot rodding trick to compensate for the torque difference by giving the Boss stock 3.73 gears compared to the 3.55 gears that the GT was born with.
Last edited: