Administrator
Staff member
As some of you already know, we added a new pony to the stable. I say "we" because this is pretty much gonna be hers but I think I will have fun making a few changes to it
2006 GT Convertible that just rolled over 80,000kms. Automatic and red just like she wanted. We've put her to good use so far and the top has been down since we got it lol (this pic was taken before I actually owned it just for clarification).
So now comes the fun part of throwing some personal touches to it and windscreen is number one on the list. Wheels number two and then who knows. I'm sure you guys and gals can manage to throw me a few ideas on mods
Now the fun part of cleaning and getting it up to my standards. It has been rust checked in the past so that is gonna be fun to deal with. Not many pictures yet but once I get around to it you can bet I will add a few more.
Thanks to everyone who helped me during the search. Thought I would end up with another 99-04 style but this one came right out of the blue and was too good to pass up :FordSmile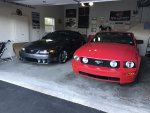 Last edited: